(or, how I MacGyvered my Sansa)
Disclaimer: I DO NOT TAKE ANY RESPONSIBILITY FOR THIS GUIDE. USE AT YOU OWN RISK. USE IT ONLY IF IT IS THE LAST THING YOU CAN DO TO TRY AND SAVE YOUR PLAYER.
After quite a while of loyal service, my (refurbished) Sansa e260 gave me the "Blue Ring of Death" or BROD – essentially, the blue ring would light up when I turned on the unit, but was otherwise completely non-responsive.
THINGS TO TRY FIRST:
Read this message board (forums.sandisk.com)
Recovering a Bricked Sansa (fixmysansa.blogspot.com)
Recovery mode didn't work, it was no longer recognized by Linux "lsusb" command – nothing. I gave up, and ended up purchasing a Sansa Connect to replace it.
On a lark, I decided to have one last go at my trusty player. It worked. Here is what I did.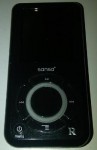 My poor, deceased Sansa.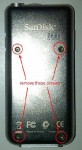 Taking apart my poor deceased Sansa.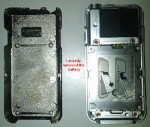 The internals of my poor, deceased Sansa. But hey – whats that black plastic panel covering towards the top of the back of the unit?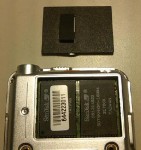 Well, now – must be the internal storage of the unit. I was poking around in there, and realized that it moved.
Wait. What?
It was wiggling around like a loose tooth. There's the problem – a solder joint has come loose. Bugger. Hrm – i wonder If I could take it out, just for giggles?
I pried the ends up, not being too gentle, and it came up with kind of a "pop" – not audible, but like it was released. I pressed down gently – and it popped back into place – TWICE – once on each end. It was much less wiggly, as well.
Oh really?
I popped the battery back on, flipped the unit over, hit the power button- and it powered on.
Goodness Gracious.
As I did not disassemble it more, I'm guessing that the storage is socketed in, not soldered. But – the memory had popped out of the socket at some point, probably as a result of being dropped. How am I going to keep that from happening again?
A quick dig through my desk drawers gave me the answer – Cotton Swabs! Generic Q-Tips that I use for my papercraft hobby.


With the ample space around the storage board, I could wedge a cross-support across the storage board, and simple leverage would keep a good connection to the mainboard, and give it some protection from shocks.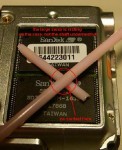 The swabs were just the right height to fit in the gap between the storage chips and the cover… Now to get them wedged into place.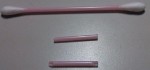 I cut the shafts to the right length, and trimmed down the ends to jam under the lip of the compartment.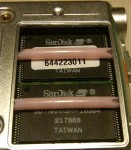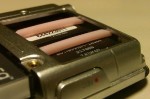 Now that the bracing is in place, it's time to power it back on. to see if it's still working…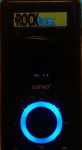 W00T!
Quick n' dirty steps:
1. Remove the back plate.
2. Remove the plastic cover above the battery.
3. Wiggle the chipset around a bit – if it feels loose, press down gently on the chips. You may have to wiggle it round until it "feels right" before you press down.
4. Wedge something overtop the chips to keep them in place. Use something that is not metallic or conductive.
5. Give it a go. If it's not working, oh, well – back to looking for solutions on the Internet.